Big Shot!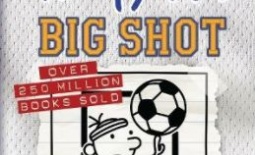 I know the children are going to love the new book by Jeff Kinney. This is the first book in the series based around sport.
This time Greg Heffley has had a disastrous sports day at school and decides once and for all that sports are most definitely not for him. That is until his mother encourages him (forces him) to give it another go and he reluctantly tries out for the local basketball team, never thinking for a second he would make the grade.
Little does Greg know that this basketball team is the worst in the league and as such (to his utter dismay) he gets signed up to the team. The season kicks off and the chances of this team winning anything at all look extremely slim, but as we know anything is possible in the Wimpy Kid books and Greg finds himself holding the ball at a crucial moment in the game - will he seize the opportunity and become the team hero or will he blow his Big Shot?