Magic!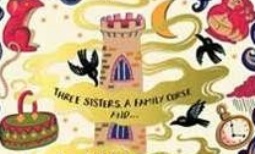 A Pinch of Magic by Michelle Harrison
We have just started listening to a new book called 'A Pinch of Magic', by Michelle Harrison.
We are absolutely loving it already.
This is the blurb from The Book Trust:
Betty Widdershins and her two sisters live with their bad-tempered Granny in the Poacher's Pocket, a rowdy, tumbledown inn on the dismal island of Crowstone.
Desperate for an adventure, Betty plans a secret outing to neighbouring Marshfoot on her 13th birthday, but is furious when Granny stops her. Granny then breaks the devasting news that all Widdershins' girls are trapped by an ancient curse and if they ever leave Crowstone, they will die by the following sunrise.
She softens the blow by showing them three magical objects which have been passed down through generations: an old bag that transports the bearer wherever they wish to go, a mirror which shows the holder whatever they want to see, and a set of Russian dolls containing the power of invisibility. When Betty tries to use these objects to change their fate, she inadvertently puts her sisters in grave danger.
In this darkly believable world of magic and myth, Betty is a likeable, funny and feisty protagonist, full of courage and determination. This riveting tale of witchcraft, love and betrayal will have readers on the edge of their seats, as the sisters race against time to try to break the curse.