The Wizard of Oz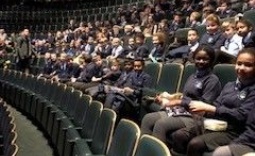 Year 5 and 6 Theatre Trip to The Birmingham Rep.
Today Years 5 and 6 had a super morning at The Birmingham Rep, enjoying the displays as they entered the theatre - including the LEGO Emerald City.
They were transfixed, watching The Wizard of Oz, the timeless classic story of Dorothy and her friends on their Quest to The Emerald City. It was really interesting to see the way that puppets were used to show some of the characters, and the children and staff thought that this was a really unique idea. The production was true to the spirit of the 1939 film with Judy Garland, which is quite different to the original story by L. Frank Baum.
The children thought about the resilience of the characters along the way and their determination to succeed, showing how a Growth Mindset can help you to achieve your dreams and goals.
Our children were a real credit to the school, and their demonstration of our core value of RESPECT really shone through.