Fairytale Team - Neverland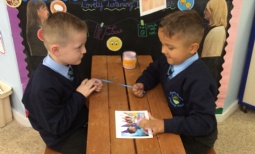 Our children at both Keresley schools have settled so well into Reception; whether it is in Neverland or Sunnyside. I have seen such amazing learning by such fantastic children, all ready to to learn with beaming smiles on their faces.
This morning I was delighted to see children really focused on their listening skills, which are so important in life. They were using 'Lovely Listening Exchanges' , where the children were use a conversation ribbon and then choose a topic to talk about. Great work Neverland!