Reading
Reading at Keresley Academies
Reading is at the heart of the curriculum at both Keresley Schools. It forms a key part of all learning experiences with a focus on extending children's language. Children are provided with a wide range of reading opportunities, encouraging a love of reading that will stay with them throughout their lives. We want all children to form positive reading habits and become experienced readers before they move on to the next stage of their education. Our aim is for all children to see themselves as readers; who are discerning about what they like; who are adventurous in their choice of reading material and who are motivated to read widely and constantly. Our practice is constantly evolving as we search for the way to ensure we give the greatest number of children the best chance possible of developing these habits.
---
Phonics
At Keresley Academies, we follow the Read Write Inc. phonics and spelling program.
Children begin their Phonics learning in Early Years where they are introduced to the phonemes (sounds) linked to the letters of the alphabet. Children use these to blend and segment simple words when reading and writing. Children then begin to learn the different phonemes, moving on to learning different ways of spelling each of the phonemes. Children use these phonemes to segment and blend more complex words, consolidating this by reading and writing simple sentences. At the end of Year 1 children will be tested on their phonics knowledge, using a national test featuring 20 real words and 20 pseudo words (nonsense). Our intention is to equip children who are 5 with the phonics knowledge and skills they need to be fluent readers by the age of 7.
Most children are ready to begin our Spelling program during Year 2. Read Write Inc. Spelling allows children to see connections between phonics, spelling patterns, rhyme and root words. This program moves progressively as children move through the school, building on previous knowledge. Each year group has a list of words and spelling patterns they are expected to be able to spell by the end of the year. You can find these on the Learning Resources for Home section of our website.
Children are taught phonics and spellings in short daily sessions, enabling children to build up the segmenting and blending skills they need to writing and reading. Each week children will have a spelling test, focusing on key phonics and spelling patterns they have practised during the week. You can support children by practising these at home. These words can be found in children red spelling book or using Spelling Shed.
---
Accelerated Reader
At Keresley Grange and Keresley Newland you can almost feel the buzz about books. All children from Reception to Year 6 are actively involved in our Accelerated Reader programme, which hooks them in to reading and leads them on a quest for their next best read.
Accelerated Reader challenges our children and encourages them to extend their reading experience. Once they have read a book, the children take a quiz on it. A result of 85% or more in that quiz means the words are added to their word count. The children try to beat their monthly target, which takes them closer to their millionaire reader reward.
The star reading assessment informs our children (and their teacher) of the number and colour of their reading level. Our librarians are available daily to support the children, as they choose their books from our busy school library.
Here are just a few of our Accelerated Reader challenge boards: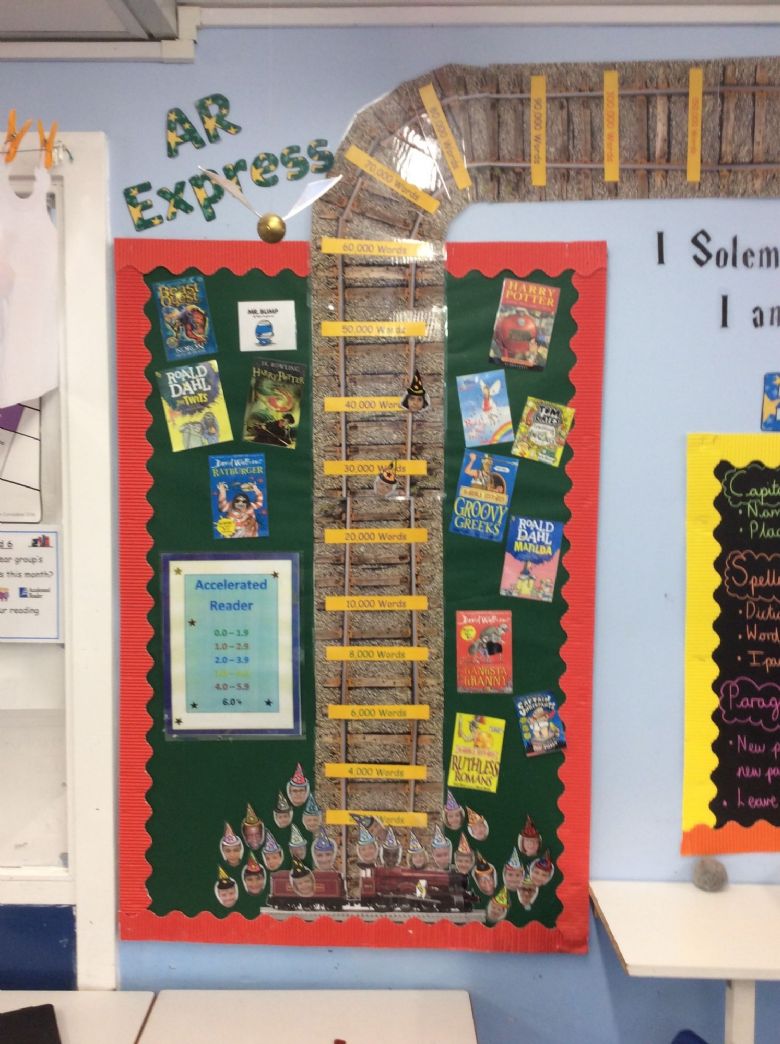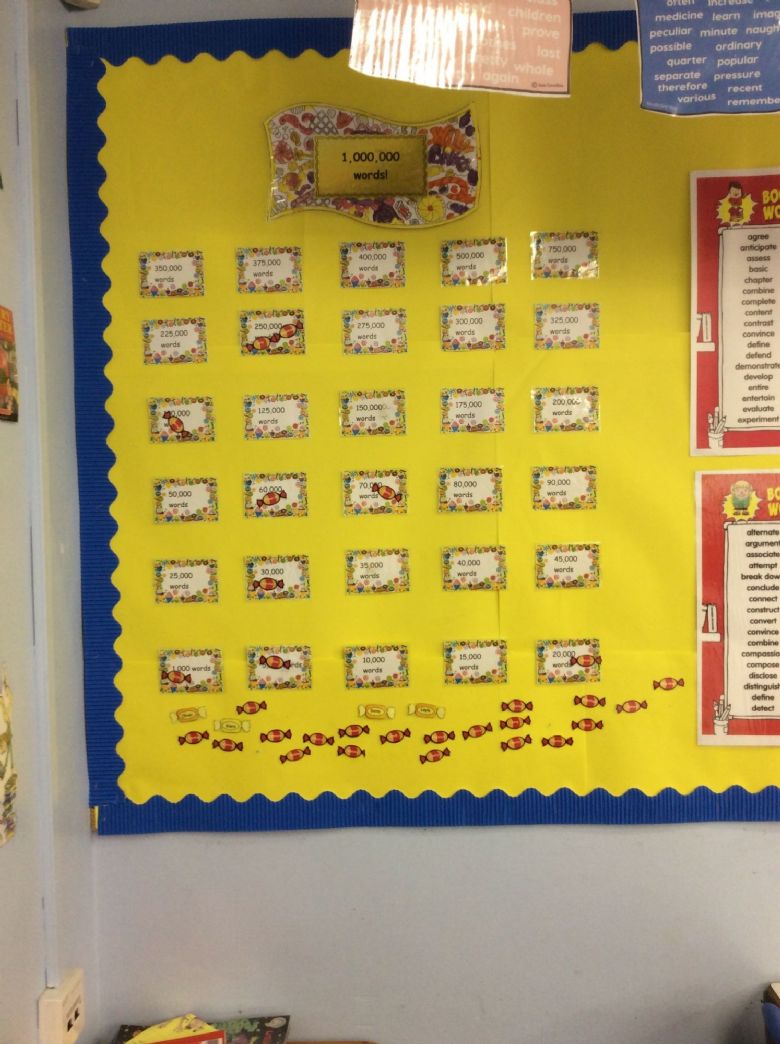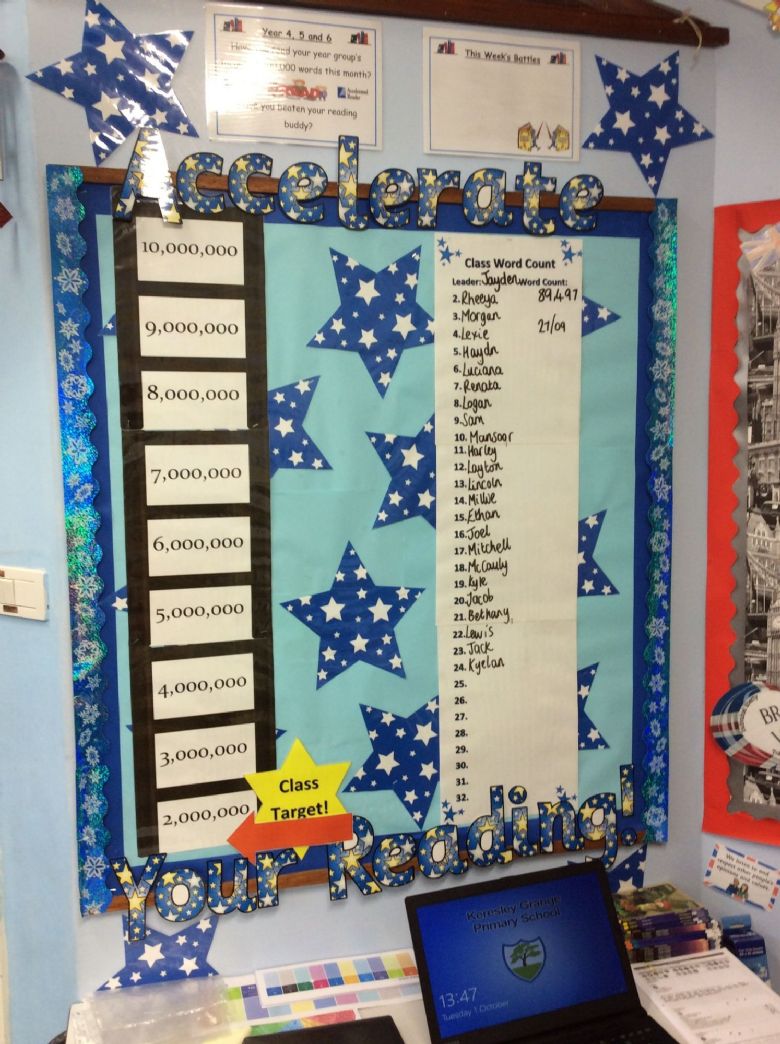 ---
Book Talk
We have recently introduced a new approach to the teaching of reading across school. We have aligned our teaching of reading with the teaching of writing using Jane Considine's 'Hooked on Books' approach.
Children take part in regular Book Talk sessions where they read aloud with a group of their peers using different reading organisations. Children use the 'Reading Rainbow' to read and respond to texts through different lenses within 3 different zones of reading: The Fantastics, The Stylistics and The Analytics. Book Talk is key to developing oracy skills. Children collaborate in groups using sentence stems and high utility words to develop a Book Talk response, scoring up to 4 points for every response they articulate correctly.